SheDevils 1st Recruiting Party..!
Well, we took our first step this past Wednesday night and it turned into a leap!
Our first shot at recruiting was a pleasantly unexpected success - it looks like we have one hell of a crew of incredible women who are just itching to get this show on the road and start rumbling!
Here's some photos!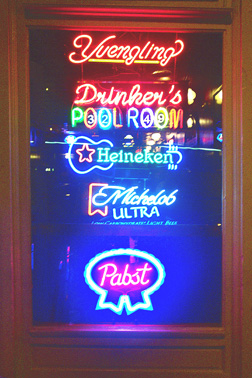 Drinker's Tavern, Philadelphia, the favorite watering hole of the SheDevils.
That's me on the left and Ken, aka The Jersey Bloodhound, trying to look cool, calm and collected while hoping someone actually shows up!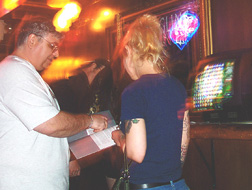 Well, they started showing up right on time! Here's Ken going over our info and recruitment kit with a future SheDevil!
We hung out at the bar for a while and got everyone fired up watching the DVD of the Texas Rollergirls Championship match and then headed downstairs.
Here's everyone listening to our sales pitch - is this a bad ass bunch or what?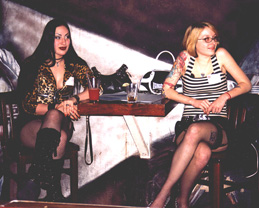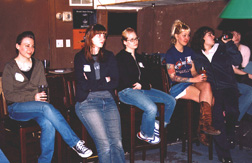 Like I said, these ladies are ready to get rockin' - before the gig broke up sometime Wednesday night we were already talking about fund raising, making costumes, picking out their roller names and picking up blocking and takedown tips from Ken! All in all, you couldn't ask for a better group of rowdy, rockin' rollergirls!
Philly was the home of knock down, drag out roller derby action years ago and we're bringin' it back! We're gonna kick butt, make noise and have fun!
We're having another get together on March 9th at Drinker's to start setting up committees and figuring out who will be doing what and how.
If you couldn't make it out this Wednesday and still want to jump on board, drop us a line and let us know you're coming in March, we'll be looking for you!
Thanks to everyone who came out and keep spreading the word.
Roller Derby is coming back home to Philly and it's name is the Penn Jersey SheDevils!
**Many thanks to Mr. Burger for the photos!
Shout Back!