She Devils at CZW..!
Philly's own,
Combat Zone Wrestling
, held it's Best of the Best event on Saturday night, May 14. Of course, where ever you find hard hitting action like this, you usually find some of the Penn Jersey She Devils!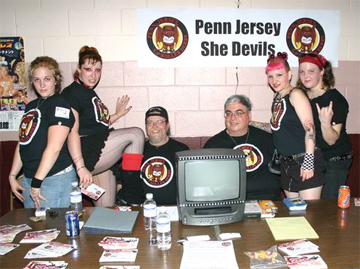 Here's part of our crew at our table, where we showed roller derby tapes, handed out info on our upcoming fund raising events, gave out recruitment kits and, most importantly, listened to the enthusiastic response from fans to bringing REAL roller derby action back home to Philly!
Speaking of action, not only did our ladies enjoy the high-flying, hard slamming action in the ring, at halftime they gave the crowd a little taste of just what REAL roller derby action is all about!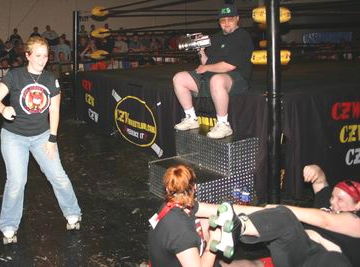 The Penn Jersey She Devils Roller Derby league would like to thank the owners, promoters, wrestlers and staff of CZW for their support and enthusiasm, we're looking forward to seeing you all at our events!
thanks to Whacks for the great photos..!
Shout Back!